Sure-footed: Help from LRH rehab team helps Rothsay woman walk again
Not everyone might feel grateful after requiring an amputation below the knee, but Judith Dumke Emery is different.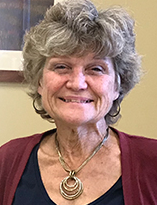 Already a cancer survivor, she realizes the procedure – which was necessitated by a fast-moving infection that started in her left foot and quickly turned into sepsis – saved her life. Dumke Emery is grateful she'll soon be fitted for a prosthetic leg that will enable her to work outside in her rural Rothsay, Minn., home again. And she's grateful she received the professionalism, encouragement and support of Lake Region Healthcare's medical team. "It's the first time I've been in a hospital setting where everyone worked together as a team," she says. "I just can't say enough about every aspect of the experience – from the doctors to the nurses to the people who cleaned my room."
The Learning Curve
Dumke Emery was especially close to LRH's acute inpatient rehab where occupational and physical therapists and nurses worked with her to help her regain strength, balance and alternative strategies to compensate for the loss of her lower left leg. "There's a lot of learning curve," says Lindy Currie, a registered nurse and community relations/admissions coordinator in acute rehab. "There's a certain amount of time that a person has to heal and be able to be independent without the limb before being fitted with a prosthesis. And then there's the emotional piece – we deal with that, too."
That meant beginning physical therapy as soon as possible after her surgery in August. Dumke Emery worked with LRH therapists to master moving between bed and wheelchair, getting dressed, cooking, climbing in and out of cars and all the other everyday tasks we often take for granted. Her rehabilitation team also had to consider some additional factors. Dumke Emery's intact right leg has polyneuropathy and a knee deformity, both caused by radiation treatments for cervical cancer 25 years ago. "She had a lot of weakness and hyperextension of her right leg," Currie says, so they had to work especially closely with her to ensure their suggestions worked for her.
Currie says this team approach is typical in the hospital's rehab unit. The rehab team meets every day to talk about the progress of each patient, including discussions on daily goals, what works, what doesn't and any other relevant information.
Team Excellence
Since 2004, the LRHC rehab unit has been certified by CARF (Commission on Accreditation of Rehabilitation Facilities), a prestigious recognition that shows an organization is guided by internationally recognized service standards and best practices. The facility is rigorously reviewed every three years via in-depth on-site reviews. (Incidentally, the unit also received stroke certification from CARF in 2016. "It's a pretty high accreditation honor for a rehab unit, so we're really proud of it," Currie says.
The rehab's emphasis on teamwork and problem-solving came in handy with one of Dumke Emery's biggest challenges. The nerve damage causes her right toe to drag, which makes her susceptible to catching her foot on carpet and falling. Someone on her care team had the idea of running a Velcro strap through her brace and boot to hold up the toe. "It works beautifully," Dumke Emery says.
The rehab team also stays connected with the overall medical team, from podiatry and general surgery to chaplaincy. "We had a lot of working parts, so we like to keep the communication flowing," Currie said.
Ready to go!
By the time Dumke Emery's discharge date rolled around, everyone felt confident she was ready. A goal had been set to walk 40 steps with a walker before she could leave the hospital, but the willing patient worked so hard that she did well over 100 steps. Everyone was so attentive. When they talked to me, they looked me in the eye, which I really appreciated," Dumke Emery says. Of course, you would never choose for something like this to happen, but it's great that when it did, there were so many people around to help make you feel upbeat.
Despite several major health challenges, Dumke Emery has always stayed active and fit. Her busy life on the farm with husband, Dave, has included physical work such as hauling 5 gallon buckets of feed for the sheep and chickens and harvesting her own herbs for farmers' markets. Even this latest setback didn't slow her down. "As soon as the staples came out after surgery, I was ready to help with harvest and dig potatoes, she says.
Her next step will involve being fitted with a prosthetic in the next couple of weeks. Dumke Emery is thrilled at the prospect of regaining more mobility. However, first she will need more physical therapy, as LRHC professionals help her adjust to walking with an artificial limb.
History suggests that this adjustment won't slow down Dumke Emery for long. "I told my doctor, "I want to run," she says.